High Tide is a tasteful blend of classic and contemporary beach party rock and dance music from the 50's to the 00's. The band is a duo based in the Orlando and Central Florida area performing over 200 shows per year. Click this link to view our schedule.
Bill and Carl have been playing in various bands for over 35 years, and together as High Tide for over 15. Their musical repertoire is composed of classic beach party artists such as Jimmy Buffett, Van Morrison, and Bob Marley. They also perform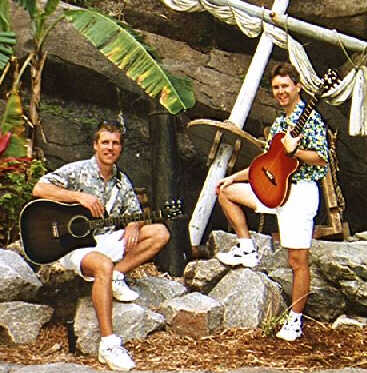 classic rock by artists such as The Beatles, CCR, Tom Petty, and The Eagles along with dance party music favorites such as KC and the Sunshine Band, Kool & The Gang, and Stevie Wonder. Their music blends their love of the surf, sand, and sun with current demands of today's sound.
High Tide is now also available as a full band to fit any musical requirement. This now gives you the ability to hire them from a solo performer or duo, all the way up to a 5 piece band including drums, bass, guitars, and steel drums and anything in between.
Audiences are always amazed at the versatility of music that the band is able to perform, allowing them to satisfy almost all musical tastes. Their instrumentation comprises acoustic and electric guitars, mandolin, flute, and exceptional vocal harmonies, blended with sequenced accompaniments. They are perfectly suited for conventions, outdoor events, waterfront areas, clubs, cruises, weddings, and parties.
High Tide has two independantly released CD's. Their debut CD titled First Wave, is is a collection of favorite covers from their performances with a couple of originals added to the mix and is available at all live shows. The single The Fan has received air play on Real Radio 104.1 FM and has been selected twice as the pick of the day on the Phillips File, a program dedicated to featuring local music. Their latest release of 2004 titled Sun After Rain, showcases more of the bands original material and a few covers added in.
For more information on the High Tide Band please visit YouTube or for USTREAM for more video.  For CD ordering please visit iTunes or CD Baby.
Email us at:billcockrellmusic@gmail.com